Malaysian Government & Politics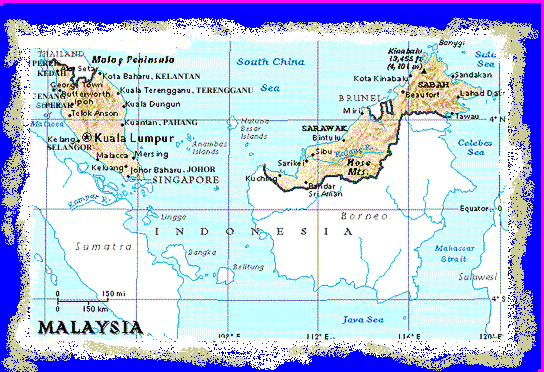 Map of Malaysia
MALAYSIA - Retrospective
Straddling the Indian Ocean and the South China Sea, Malaysia has always been a melting pot of cultures, as traders from the West meet those from the East. The population comprises the Malays, Chinese and Insians with smaller group of indigenous peoples Orang Asli, Eurasian and Indonesians. Since 1957, when the independence movement resulted in the Federation of Malaya, followed by the formation of Malaysia in 1963, the country has forged ahead as a successful developing country. The turbulent history, leading up to modern Malaysia's rapid development, illustrates some of the elements, which shaped the country's destiny.
MALAYSIA - States

Malaysia has 13 states and 2 federal territories

  Wilayah Persekutuan / Federal Territories : Kuala Lumpur and Labuan States : These nine states have hereditary rulers known as the Sultan and Yam Tuan Besar for Negeri Sembilan. From these states, Perlis, Kedah, Perak, Selangor, Negeri Sembilan, Johor, Pahang, Terengganu and Kelantan, the Head of State of Malaysia, The King or Yang Di-Pertuan Agung, is elected every five years. The nine states have hereditary rulers known as Sultan and Yam Tuan Besar for Negeri Sembilan.   For Penang, Melaka, Sabah and Sarawak, the Governor is Head of State.

MALAYSIA - Parliament

The Government is parliamentary democracy based upon universal suffrage. The executive power is vested in the head of Government, the Prime Minister, who presides over the Cabinet, comprising the Government Ministers.   Parliamentary comprises two houses; The Dewan Rakyat, which is fully elected, and the Dewan Negara (Senate) to which members are nominated by the Agung (King). Senate members are citizens who have given distinguished public service, have distinguished professional careers, or who represent interests of racial minorities and aboriginal people.

 

MALAYSIA - State Governments

Menteri Besar (Head of Local State Governments) are elected to office, together with a Dewan Negeri or State Assembly. For the states of Penang, Melaka, Sabah and Sarawak, Ketua Menteri or Chief Minister is the Local State Government Head. The supreme law of the nation is a written federal constitution, which can only be amended by a two-thirds majority in Parliament.
---

Government Ministries

Prime Ministers Department

Ministry of Youth and Sports

Ministry of Finance

Ministry of Domestic Trade & Consumer Affairs

Ministry of Energy,Telecommunication & Posts

Ministry of Primary Industries

Ministry of Transport

Ministry of Science, Technology and The Environment

Ministry of Information

Ministry of Entrepreneur Development

Ministry of Education

Ministry of International Trade & Industry

Ministry of Human Resources

Ministry of Tourism

Ministry of Agriculture
---

Political Parties

UMNO

UMNO Youth

Opposition Party-DAP
---

State Governments

Perlis Indera Kayangan

Kedah Darulaman

Kelantan Darul Naim

Terengganu Darul Iman

Pulau Pinang(Penang)

Perak Darul Ridzuan

Selangor Darul Ehsan

Pahang Darul Makmur

Negeri Sembilan Darul Khusus

Melaka (Malacca)

Johor Darul Takzim

Sabah

Sarawak
---

Government Agencies

Department of Environment (DOE)

Road Transport Department (JPJ)

Public Works Department (JKR)

National Archives of Malaysia (Arkib Negara)

National Library of Malaysia (PNM)

Forest Research Institute (FRIM)

Immigration Department of Malaysia

Malaysia Agriculture Research & Development Institute (MARDI)

Palm Oil Registration & Licensing Authority (PORLA)

Palm Oil Research Institute of Malaysia (PORIM)

SIRIM

Tenaga Nasional Berhad

Telekom Malaysia Berhad

Inland Revenue Board of Malaysia

Bank Negara Malaysia

Royal Customs & Excise Department of Malaysia

MIMOS

Technology Park Malaysia

Fire & Rescue Departmentn

Department of Survey & Mapping of Malaysia

Malaysia Industrial Development Authority

Department of Co-operative Development Malaysia

Dewan Bahasa dan Pustaka
---
---